Ensuring top quality and safe foods is a vital area of responsibility that requires continuous checking and inspection at each production stage. For Penta Impex, quality control begins with the selection of raw materials and continues throughout the production process until the finished products are delivered to customers around the world. Currently our integrated quality system is accredited for the GHP, HACCP, GFSI-BRC, FSMA, and ISO 9001.
Our processing facility is designed and constructed in the ways that enhance food hygiene control. A high standard sanitation program in accordance to the Good Hygienic Practices (GHP) and an accredited HACCP (Hazard Analysis and Critical Control Point) Program is in place for every product that we process in order to ensure our products' safety for the consumers around the world.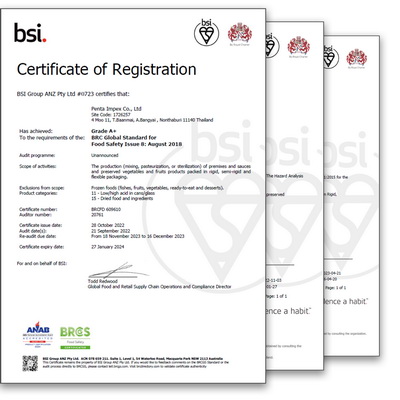 Since 2008, we have been accrediting the GFSI-BRC food safety management system. The GFSI-BRC standard provides a framework for implementing a comprehensive food safety management system in our production facility. The standard is regularly updated to reflect changes in food safety regulations and industry best practices covers all aspects of food safety, including food hygiene, hazard analysis and critical control points (HACCP), site standards, product control, process control, personnel, allergen, and management commitment, and continuous improvement.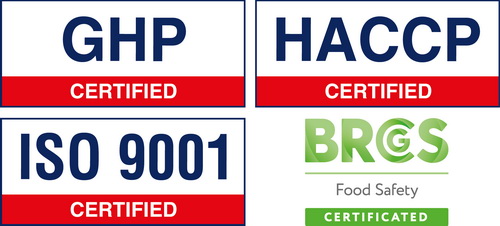 Our commitment to product quality and safe foods is also demonstrated in the guidelines that are in place for worker safety and hygiene. We employ stringent hygiene practices along with our Enterprise Resource Planning (ERP) software system that is integrated with our food safety program in order to allow us to achieve a full traceability system on what we produced starting from raw materials, recipe control along with process inspection to whom the products are being delivered. We can ensure that we are capable to react quickly to issues such as food safety and recalls before they can damage reputations, and closely monitor compliance with a range of regulations, whether from the USFDA, the EU, or the International Food Standard Authority in different countries.